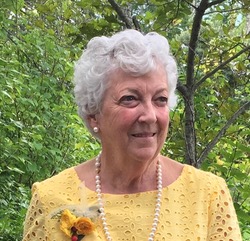 NEW ENGLAND GARDENCLUB
2017-20
New England Garden Clubs, Inc. Director's Message
Theme:  New England Plants for Everyone!
Project:  Plant America!
Dear NEGC Members,
Welcome to the Director's Message of the NEGC website. It gives me great delight to serve as your Director of the six New England states.  Our status in National Garden Clubs, Inc. has changed, making us independent as a region.  We  have changed our name, received an EIN number, and we're waiting for our 501c3 to become definite.  All of this is new to everyone, so don't be too confused!  We'll work it out together, and I ask for your patience as our website, newsletter, name, etc, etc. all evolve to reflect this change.
NGC's President, Nancy Hargroves, has chosen Plant America as her theme for the 2017-2019 term.  This theme can cover any and every aspect of gardening, horticulture, garden design, and community service.  It applies to every type of garden, whether it's a new project or an ongoing one.  Plant America Community Project Grants will be available during this administration, with a November 1st deadline for projects entered now.
The money will be awarded next spring and the project must be completed by July 1, 2019.  We hope that you will take advantage of this grant which will give your club financial support for your project as well as give recognition to your club in your community.
We look forward to seeing you on October 30th to 31st for our Annual NEGC Meeting sponsored by the Federated Garden Clubs of Rhode Island and to be held in Warwick, RI, at the Crowne Plaza Hotel.  This will be followed by a Symposium over the next several days.
Thank you again for letting me work with you over the next two years!
Sue Hinkel